Just in time for Valentine's Day, we received some fantastic news! Our dossier (the GIANT package of documents) is officially officially DTC or Dossier To China. This means the documents were processed through all channels of authentication on the US side and are now on their way to China. This is a huge step in the adoption process and we hope the rest of the several steps to go move quickly.
What's next?
Our next acronym target in the language of adoption is to be LID (Logged In Date). This means that our dossier has been received by the authorities and logged into their systems. We would love to see this happen in the next 10 days or so.
How's Eli?
We wish we knew the answer to this question each and every day.
While we can't request any new updates right now, we have been doing our best to get to know Eli in other ways. For Valentine's Day, our family celebrated by eating a Chinese buffet. The food choices were labeled so it was a good way to try new things and try to remember what we liked. One of Eli's profiles said that steamed buns are among his many favorite foods! We all had a chance to try those and other foods on Eli's favorites. The steamed buns were not quite as adorable as the pig ones pictured here but they were still tasty. Even Hannah gave them a whirl!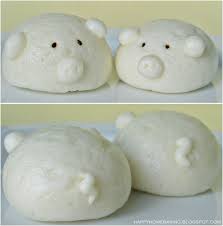 Another piece of important mail also made its way to China-and even Eli's province-today. We'd nearly given up hope on the care package we sent at the very start of the year. It typically takes a little under two weeks for packages like this to reach our courier. We're guessing that the mail was delayed or slowed even prior to the Chinese New Year holiday. After over 4 weeks, our package showed up an
d the kind woman who serves as a go-between added the items we requested (a bag with a note that includes Eli's picture and a note labeling it as his personal property and a USB drive for pictures the orphanage may have taken of him over the years). We also sent a Bengals fleece shirt, a ninja turtle t-shirt and toy, a slinky, a tiny Iron Man toy, Eli's dinosaur from my Aunt Kate and Uncle Glen, tea for the nannies, and suckers for other children in Eli's room or foster home. Our note was signed from friends in the United States. We're working on our official introduction to Eli, which will include a book of pictures, when we receive Letter of Approval (LOA).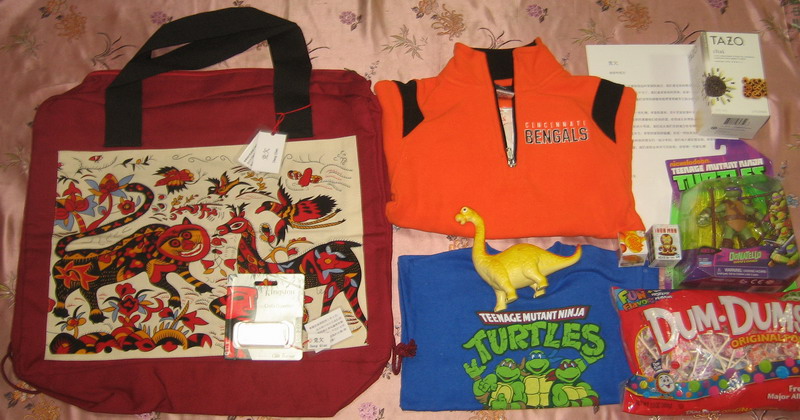 We hope the package makes it to Eli but we know it's never guaranteed. Some orphanages keep the packages-including picture books that introduce families-until the day the child is adopted. Others take pictures and videos as the child opens them! Hopefully, Eli will get our package sometime in the next few days and he, his friends, and nannies will like it.
Thank-you all so much for your support and encouragement on our journey. I hope we have more good news to share soon.
Kara