We're in the final stages of this long, long wait. Any day now-we'll receive travel approval, or TA, from China. With that approval, our last chunk of funds will be due and we'll be free to go to China and *bring Eli home*. I usually consider myself a relatively patient person but this waiting game is a tough one! We're not only waiting for TA but also to hear final word from more than TWELVE grants! Many of the granting organization prefer to wait until you are very, very close to traveling. I'm guessing they strategize a bit to see if they can wait out some people who will find funds elsewhere. It's not necessarily a negative thing-with the end result being more children brought home to families-but nonetheless, it's stressful! Like so many families, we can afford to welcome another child into our home but the upfront costs for adoption are a major challenge. Still, we're compelled by a belief that adoption IS possible for diverse families. We've applied to grants who also support this belief and understanding that the upfront costs are often the barrier between a child who needs a home and a family who wants to welcome them. We've learned a great deal from the grant process and I intend to reflect on that for other adoptive families in a future post. Last week, we received one rejection and one approval! Just twelve more answers to go!
While we wait, we'll be making one, final fundraising push. We are so very thankful to our friends and family who have helped us beyond measure. It has been difficult to ask for help but it's also been an incredible feeling to experience the support, generosity, and love shown by so many. If you've donated, shared our story, or wished us luck-thank-you. We've got a few things up our sleeves in these last few weeks. We'll share them here and via Facebook. We hope you'll help us make this final push a success. If you've supported us from the beginning, feel free to help us by sharing our story and more importantly-Eli's story-with your networks. We've made so many new connections through this journey and hope to make even more before our plane lifts off for China.
So…here's a preview of two fun events before we leave!
Buffalo Wild Wings is one of our family's favorite restaurants. The servers and staff at our local Mason BWW's have always been so friendly. They know Hannah's name and even her favorite ninja turtle:) The management staff has agreed to host a fundraising night for our family Monday, June 23rd. 10% of all dine-in tickets will be donated to our Adopt Together account. All you need is THIS FLYER—-> (BW3sMasonFundraiser) to have your ticket included in our total. Our family will be there in the evening but lunch, snacks, dinner, and in-between are included in the event! We still feel somewhat new to the Mason community so please help us spread the news by sharing the flyer with friends and family.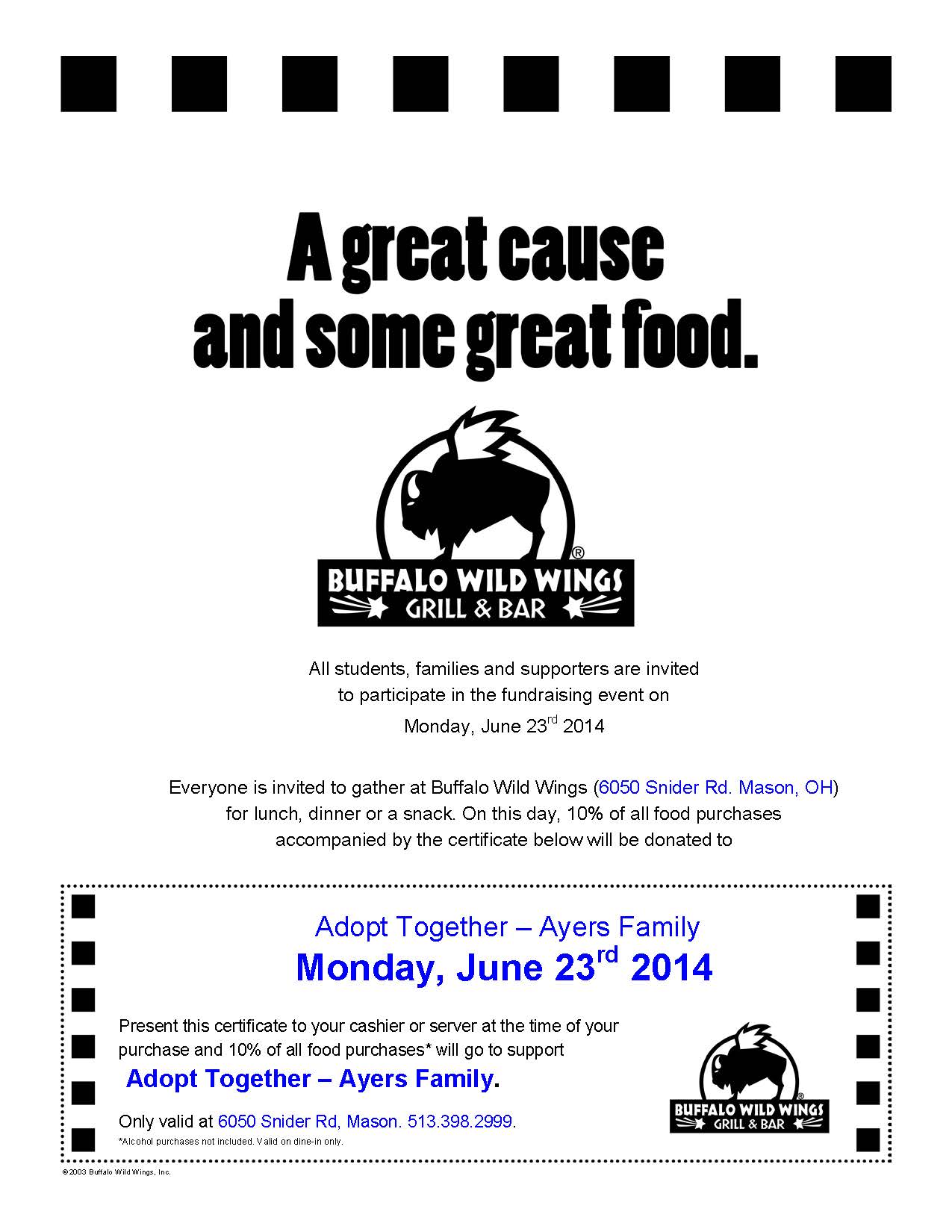 If that's not awesome enough, there's more wing fun to be had! We're also in negotiations with the Frankfort Buffalo Wild Wings to have a China send-off night in my hometown. I am so excited about this opportunity and will share the date and that flyer as soon as it's available.