About Our Family
Hi. We are the Ayers family. I'm Kara and I married my husband Adam four years ago.
In most ways, we're your typical family. We care about FAMILY, social justice, and of course-football. When our paths crossed again some 13 years ago, I never dreamed we'd share such an amazing life.
Our journey to adoption isn't one of what's missing but what we'd like to provide.
As a family, we've had an incredible opportunity to learn about, face, and embrace adversity each and every day. In addition to interests, passions, and commitment, Adam and I share the same unique constellation of genetic awesomeness known as Osteogenesis Imperfecta (OI). OI is a brittle bone condition and a type of dwarfism. There aren't many couples like us, families like ours, or stories that resemble our own. We've become accustomed to blazing our own trails and our journey to Eli is another act of doing just that.
For more than three years, our world has centered on our sweet, spirited, and sassy Hannah. She's wild, rambunctious, funny, and out-of-this-world smart. Adam and I were both blessed to have siblings and we're so excited that she will enjoy the joys of ear tugging, sharing, and loving with a brother. Hannah's also pumped as long as, "He doesn't take (her) seat in the car!" We thought that was a reasonable request.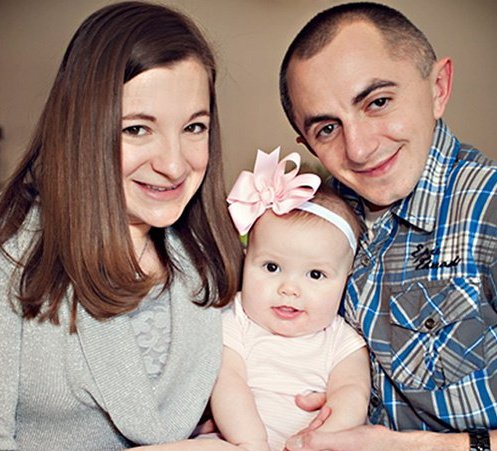 When Hannah was a few months old, we realized that people had ALOT of questions about how parents with disabilities make a baby, raise a baby, and otherwise maintain said baby.  While I'm only a little over 4 feet tall, my pregnancy with Hannah was happy and healthy. She came out literally ready to roll. Because Hannah grew as I rolled-rather than walked-through life, she's always found riding on our laps soothing. I wrote an article for New Mobility Magazine sharing our story in those early months.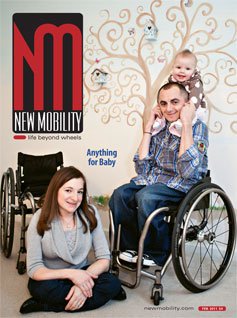 Since that time, life has flown by. We spend our days immersed in building the best future possible for our family-while also trying our hardest to live in the moment! Hannah is loving her new preschool this fall and keeps us busy with gymnastics, swimming, and dance. Adam is a recreational therapist. His days are filled with running sports programs for people with disabilities. I'm a professor and an Advocacy Coordinator for the University of Cincinnati UCEDD. I write about, talk about, and advocate for issues related to making the world a better place for people with disabilities-and everyone else for that matter! We are so fortunate to truly *LOVE* what we do. We work hard and play hard together.  Our home is a happy one-filled with laughter, a good bit of Ninja turtles, and a usually snoring bulldog.
We cannot wait to bring Eli home to grow our family and our hearts.