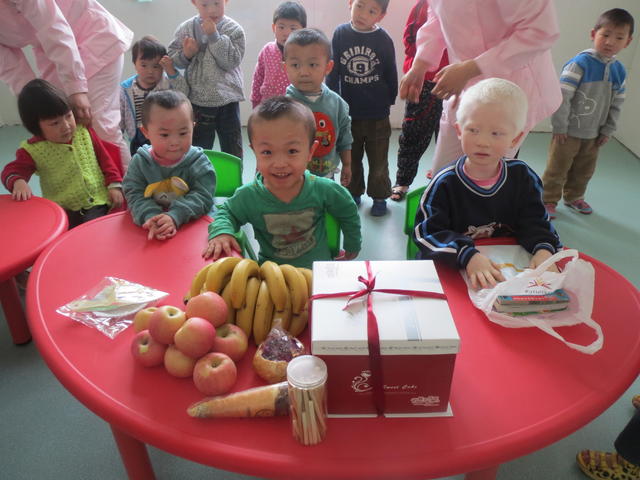 Last week-on the other side of the world-our son turned 7!
I woke up that morning with a collision of excitement, uncertainty, and a little sadness that we're not yet together.
We'd arranged to send a cake to Eli's orphanage. With cakes, care packages and well-almost everything with adoption!-there's uncertainty. You're never certain it reached it's destination-Eli! Sometimes you receive word that the package or cake was delivered. Sometimes you don't. Sometimes you receive pictures. Often, you don't.
I reminded myself that an update for us would be nice but what mattered the most was Eli's big day. I just hoped tha
t he felt LOVED and special.
Last night, I received an update from the woman who arranged to send the cake to Eli's orphanage. She said she'd send the pictures "tonight". I'm never clear if people mean China-time, Ohio-time, or Utah-time (where our agency is). So naturally-I checked my e-mail incessantly last night. When Obie needed his typical 4 am stroll, I saw our pictures had arrived! I wanted to open them with Adam and Hannah so I waited until we were all awake.
After 2 computers, 3 browsers, and several phone apps, nothing worked to open the files! The file format was written in Chinese and it seemed nothing would open it. After a series of roundabout attempts, I signed up for what appears to be a Chinese version of something G-mail-like. It has a Google Drive-like service that had the same file type as my attachment. It worked! These pictures are some of the most amazing gifts I've ever received!
Look at his sweet face!
He looks happy and I was overcome with appreciation. Thankfulness that he's come into our world. Thankful we are getting so much closer to bringing him home. Thankful to the many, many people who have made our journey possible thus far and incredible thankfulness to the kindness of the nannies who have cared for him and will continue to do so until we can get him home. Adoption is such a tricky collision of emotions. I'm all at once overwhelmingly sad that this is in all likelihood the first time his birthday has been recognized and at the same time-so excited (and eager!) for what's to come. I notice all of the little changes since the last time we saw pictures (in November!). His teeth have grown in! His little mohawk is new!
As I look at the little faces surrounding Eli, I can't help but to wonder about their futures. Is someone coming for them? Eli has grown up around these children-these nannies. He will miss them so deeply. For this reason, too, these pictures are such an invaluable gift. Someday I'll link our memories-his of a special day with a tasty cake and mine of wishing and wanting a little boy to know much he is already very much loved.
Happy Birthday Eli!