With our exciting announcement, we'd also like to kick off our first fundraiser. We'll track our progress through blog posts and our Fundraising page. We are incredibly thankful to all of us who support us on this journey-whether financially, through uplifting words, or prayers. This process will require faith, hope, love, and….a plan! A unified effort to The Puzzle fundraiser will allow us to create a visual reminder of the community that united to bring Eli home.
Here's how the puzzle fundraiser works: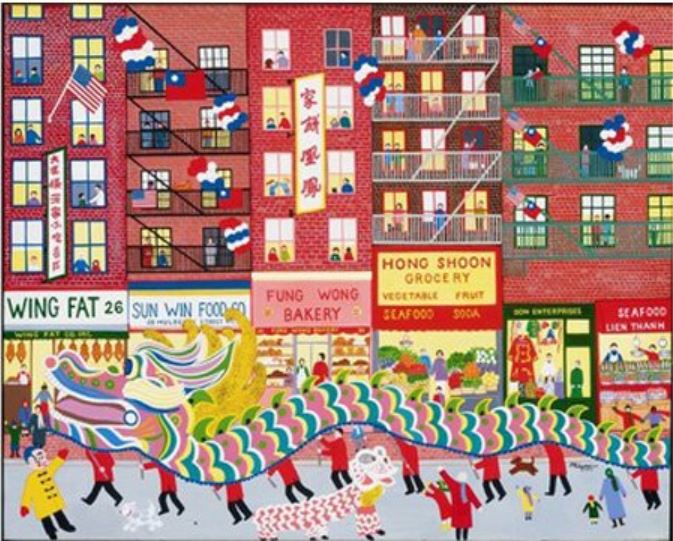 We found this awesome puzzle and purchased it using credit card rewards points we've been saving. It's an illustration of a festival in Chinatown and we love the way it integrates American and Chinese cultures.
People who donate to our adoption fund will purchase a puzzle piece for $20. We will write the name of the person or family on the back of the puzzle piece. Watch the puzzle come together here on our blog as we move toward our goal. When the puzzle is complete, we will frame it in two frames of glass so that Eli and our family can reflect on how many people literally came together to bring him home. Ready to help get us started?
There are a few ways to help:
1) Click the BUY NOW button below to buy a puzzle piece. If you'd like to purchase more than one piece, you can change the quantity. Just let us know in the MESSAGE box if you'd like several names written on the pieces. If you'd like to make a different contribution-smaller or larger-we've set up a more general DONATE button in the sidebar.
2) If you'd prefer to mail a check, please email me at writekara@gmail.com for our address. Your contribution will be added to the same fund, reflected in our progress towards the goal, and puzzle pieces will be added with the name(s) you specify.
3) We're in the process of setting up a donation option that would be tax-deductible. When this is finalized, we'll let you know with an update.
In addition to help building the puzzle, we are so thankful for your time and energy in efforts to spread the word about this fundraiser. There are buttons below to "SHARE" this post with your networks. Please invite others that you know to get to know our family and support our efforts to bring Eli home.
Thank-you so much.
Love,
Kara & Adam