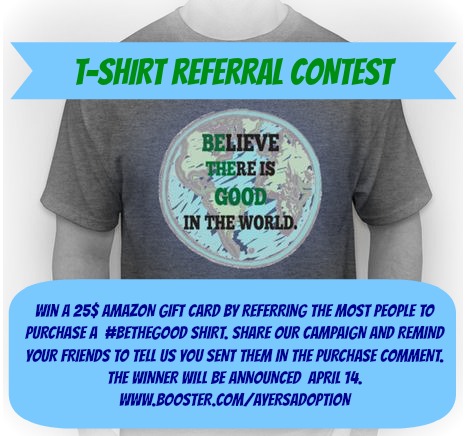 Our Booster t-shirt campaign has sold more than 30 shirts! We have just 10 days left until the campaign closes and we would love to blow our goal of 50 out of the water. The most exciting part of selling more shirts is that as the numbers rise, Booster charges less to print per shirt. That means that more money from each shirt will go towards Eli's adoption fund. In sharing this with a friend-who wishes to remain anonymous-she suggested a contest to bring our campaign home with a strong finish. She donated a 25$ gift card for the winner and we couldn't wait to kick it off.
Here's how it will work:
1. Share our Booster page with your friends and networks asking them to join our campaign by purchasing a shirt.
2. Ask them to say YOU sent them in the comment section of the Booster page. If they forget (or would rather not write a comment), no worries! They or you can contact me after their purchase via email (writekara at gmail dot com) or our FB page.
3. Keep sharing until 4/14 when our campaign and the contest ends.
4. I'll tally the sales and the person who referred the most will be mailed their Amazon card on 4/15/14.
One final note-I see a few people who were already referred! These count as well. If you referred someone and they didn't mention it in their comment, just let me know and I'll get yours counted.
We hope this is a fun way to help share and promote our campaign. We know your friends, your networks, and your contacts are important to you and we truly appreciate your willingness to help us share our story and our goal-to roll Eli home!