In the midst of a all the snow Friday, our family made the trek to Columbus to get all of our dossier documents state sealed. This is a HUGE step in adoption.
What is a dossier?
The dossier is a set of documents used to describe our family to the foreign courts. Our homestudy is part of the dossier but there are around 19 other pieces!
What's in a dossier?
Our dossier included birth certificates, our marriage certificate, letters from our employers, financial forms, police clearances, medical forms, our homestudy, passport pictures, additional pictures of our home, our immigration approval, and a letter of our intent to adopt Eli.
How is a dossier prepared?
Completing a dossier is yet another reminder that it takes a village to adopt! Several parts of the dossier required us to rely on someone else to help us with its completion. Small hiccups can be pretty nerve wracking because Eli is on our minds day and night. We don't want him to miss out on any more opportunities. We know a school year is ticking by and we're just….eager. Collaborating with so many through the process has also reminded us how grateful we are for others time and attention. We know paperwork isn't fun…for anyone. These forms are generally more complicated too because most have to be notarized-or signed in front of a notary. After this step, Adam took every document to (3!) different county offices to confirm our notaries were the real deal. AFTER that, we headed to Columbus for our state seals. None of this can be done in too much advance because some documents must be no more than three months old by the time they are processed in China.
After we admired our shiny, gold state seals, we headed STRAIGHT to the post office and overnighted our dossier to our agency. They will help us obtain federal seals and then, it will be off to China!
What's next?
Adoption is alphabet soup. There's always a new acronym to look forward to….Right now, we are waiting to officially be DTC (Dossier to China). After that, we'll be waiting to hear our dossier has been translated. The entire 40+ page document has to be translated into Mandarin. THEN, we'll be waiting for the ever-coveted Letter of Approval (LOA)…there are many more steps, but we are making progress!
While we wait and wait…we're reminded that Eli has been waiting much longer…for a family, for a home, and for a future. Other orphans-especially those with disabilities-are doing the same. I found a quote today from Helen Keller that was perfect timing…We hope Eli remains brave and we'll work on the patient part.
Introducing another next step…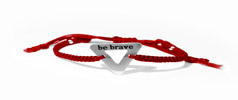 In celebration of completing our dossier, we're launching a new fundraiser. You can now purchase Bravelets to help us bring Eli home. Bravelets are bracelets, rings, and necklaces with the inscription "Be Brave". Everyone can use the reminder and we loved having the opportunity to select colors specific to our cause. The support and love that so many have shared as we fundraise has been incredible. In the next few months, we'll try to offer some options where you, too, can get something awesome in return for your support. Bravelets are the first of a couple things we have in mind!
We'll receive $10 for each Bravelet purchased from the Bravelet page we created. We have several options. Just make sure you are within our page if you'd like to support our cause. Here's what your page should look like and here's the link: https://bravelets.com/bravepage/ayers-adoption
Please share our Bravelets page with your village. We appreciate your help, support, and purchases. So much!